Letters of Thanks
The following letters were published in HUG-A-BEAR's™ circulated magazine. They were written by recipients of the HUG-A-BEAR Foundation's™ charitable services who wished to express their gratefulness to our program.
Dear Diane,
On behalf of the MatriArk program at Seabrook House, thank you for includig us in the HUG-A-BEAR™ recognition program. It was truly humbling to be in that audience and realize all the good work being done by so many in our area and that HUG-A-BEAR™ gets to participate in every act of kindness.
We probably have all had the experience of seeing how a soft, cuddly bear can help calm a frightened child, making it possible to provide much needed, and often painful treatment. But the Bridgeton Rotary and HUG-A-BEAR™ do more, you make it possible for the neediest of children to receive the "friend" at just the right moment. Thank you for HUG-A-BEAR™.
Sincerely,
Marcia L. Schmidt,
Assistant to the President, Seabrook House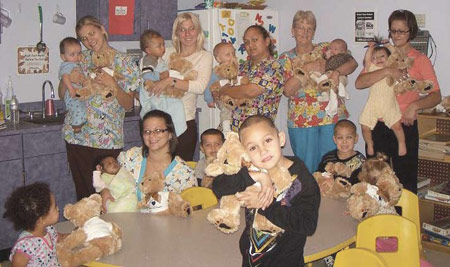 HUG-A-BEAR™ made a surprise visit to the MatriArk Program at Seabrook House to say goodbye. Unfortunately, the program ended on Dec. 31 after 17 years due to funding. The program allowed mothers recovering from substance abuse at MatriArk to have their children in residence.
Hello!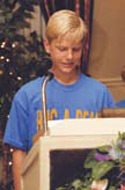 I just wanted to say something about HUG-A-BEAR™. I'm glad that there is a program like HUG-A-BEAR™ for kids that are hurt and need something to cheer them up or just something to hold and have when they need it.
When I was younger, I broke my wrist and was very thankful for the HUG-A-BEAR™ that I received. I really liked it and it meant a lot to me to just have something to hold. So I thank everyone wo really wants to help little kids in the HUG-A-BEAR Foundation™. Thank you a lot.
Sincerely,
Billy Loew
Dear Diane,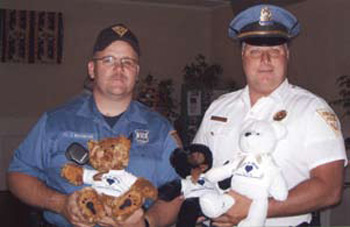 On behalf of myself and the Vineland Police Department, I wish to thank you for the opportunity to participate in a meaningful and worthwhile community project. I appreciate the dedication and look forward to future endeavors with your organization. The little HUG-A-BEARS™ certainly make a world of difference for children in a difficult situation.
Sincerely,
Timothy Codispoti
Chief of Police
City of Vineland